Proudly Servicing
Residential
& commercial
We provide our full range of services to both residential and commercial customers. Whether you have a minor pest annoyance at your home or a major business disruption at your commercial location, we can handle it all.
There's no room in your home for unwanted insects or rodents. These annoying and potentially harmful pests may look small, but they can quickly turn into a big problem. Pest infestations put your family and property at risk. With our proactive approach to pest control, we focus on solutions that not only help you rid your home of pests, but ensure that they don't return.
Experience you can trust
---
With over 20 years of experience in pest control and rodent control services,  Anytime Pest Control in Canandaigua, NY is your solution to any bug problem.
We've been helping customers be pest-and-rodent free by combining years of hands-on experience in the pest and rodent control industry and expert knowledge honed over the years. Not all bug problems can be solved the same way and we know all the ways to create a "pest free zone" for you and your family regardless of the insect type.
Integrated Pest Management
---
At Anytime Pest Control, our service specialists receive continual training under the New York State Department Of Environmental Conservation. They are taught pest control methods involving IPM, which stands for Integrated Pest Management. IPM involves knowledge of pests and their biology, as well as the appropriate control methods for each pest. 
By practicing IPM, our specialists apply products only when needed and where pests will encounter them. IPM also involves customer education and participation. When you work with us to protect your property against common pests in New York, our specialists will perform a thorough inspection around the structure and let you know if they find any areas that might promote pest populations (conducive areas). By practicing IPM, we not only protect you from pests, but we also protect the environment.
With our proven and certified methods, we promise that you and your family can live, play, and be pest-free.
Services
---
Bees, Wasps, and Hornets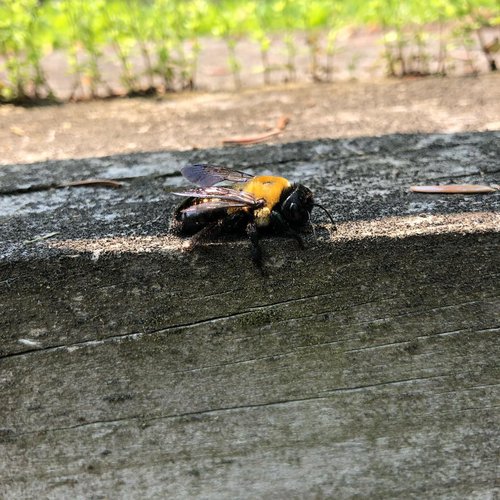 We see a variety of stinging insects, from bumblebees and yellow jackets to carpenter bees and mud daubers. We know how to get rid of an infestation safely and effectively.
More than just a nuisance, wasps and hornets can be deadly to humans if they turn aggressive in large numbers.  Their nests are constructed below ground, making it difficult to get to in order to fix.  
Between the danger they pose to people, and the difficulty of getting rid of them (and making sure they stay gone), wasps and hornets are a problem best left to the professionals at Anytime Pest Control. And with our Integrated Pest Management approach, you can rest assured that we'll handle your bee, wasp, or hornet problem in an environmentally-friendly way.
Rodents
DIY rodent control is rarely successful long-term. We'll thoroughly inspect your property and seal any openings to help prevent rodents from entering. There are various rodents in New York, including Norway rats, roof rats, house and deer mice. We have the experience and expertise to keep you protected against all types of rodents year round.
Ants
As with all pests, the best pest control is prevention! Ant colonies spread quickly and it takes time and expertise to get rid of them completely. In New York, we deal with several types of ants from pavement ants and carpenter ants to odorous house ants and more. Anytime Pest Control is equipped to keep you safe from them all.
Cockroaches
Roaches are a nuisance and difficult to get rid of without a pest control company in New York. Our cockroach removal provides targeted treatments that work.  Cockroaches are excellent hiders. If you see one or two in your property, there are probably more nearby. We will locate all infested areas and get rid of the infestation.
Cockroaches can be a big problem if not taken care of properly since they are so resilient and lay numerous eggs.  After all, cockroaches have been around since the beginning of time for a reason: Cockroaches are hard to kill! However, for the pest control experts at Anytime Pest Control it is not a problem.
Fleas
It's easy for fleas to get into your home since they are so small and can attach themselves to many surfaces like clothing materials and even animals.  They need blood to breed so they are attracted to humans as well when there are no animals around. Anytime Pest Control will solve your flea problem and keep the fleas out for good!
Cluster Flies
These guys are big, black and pesky as heck. They show up throughout the year and can be a regular nuisance if not taken care of properly. A common household pest. As their name suggests, you may find many of them "clustered" together.
Spiders
Spiders can be a really big problem to people with a fear of them.  Furthermore, there are spiders that are actually poisonous and can be especially dangerous to humans (even fatal in some cases) so it's best to leave a spider infestation to a professional pest control specialist.
Stink Bugs
To folks with a garden, stink bugs are a major concern.  As plant-feeding insects they have no problem munching on your beautiful foliage. Come fall, they can be in your house in order to seek shelter and stay warm through the winter.
Mice
Considered a "pest" rather than a true "rodent" due to their small size compared to their rodent counterparts (raccoons, opossums, etc.) mice can carry disease and chew through insulation and wiring creating major problems for the inhabitants (imagine your lights going out due to mice!). Anytime Pest Control is here to get rid of the mice.
Bed Bugs
We also specialize in Bed Bug Extermination, backed by our 100% Guarantee. Call Anytime Pest Control to handle your bed bug situation today!
Regular property inspections
---
One of our home exterminators will regularly inspect your house for pests, signs of activity, and vulnerabilities that may lead to infestations.